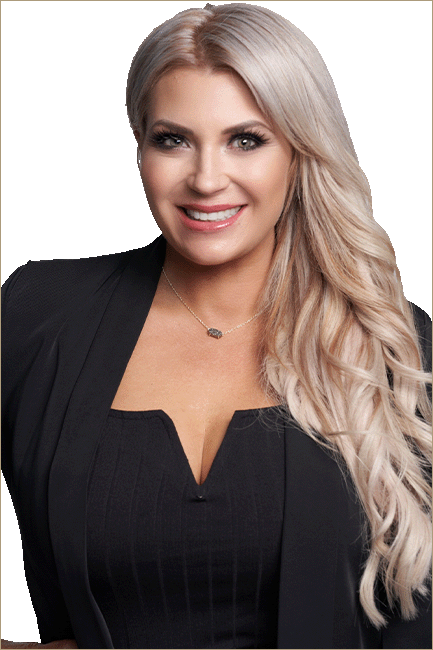 Kristen A.
Holstrom
Partner, Assistant Managing Partner
Certified Family Law Specialist
Kristen A. Holstrom, a Certified Family Law Specialist (CFLS*), is a sharp, dynamic, and compassionate family law attorney and Partner at Holstrom, Block & Parke. Kristen is also a well-known on-air personality, for Go Country 105FM. Kristen has the Number 1 legal talk radio show on the FM dial, where she educates and advises listeners on important family law issues. With over a decade of experience, Kristen is well-known and respected in the legal community for her sharp legal mind, tenacious representation, compassionate approach, and creative legal strategies.

Kristen's passion for family law began at a young age when she worked for her father, Dayn Holstrom, a renowned family law attorney in California. Kristen earned her bachelor's degree in business, with an emphasis in Marketing and Economics, from Jacksonville University, where she played NCAA Division 1 Soccer on a full scholarship. After college, she returned to California and earned her Juris Doctorate from Trinity Law School, where she excelled in her studies and passed the California State Bar Exam and the California Family Law Specialists Exam.

Kristen's expertise includes divorce, child custody, domestic violence, spousal support, child support, complex financial issues, and other related family law issues. Her hard work and dedication have earned her the esteemed designation of Certified Family Law Specialist, awarded by the California State Bar's Board of Legal Specialization. Kristen is also a member of the Association of Certified Family Law Specialists (ACFLS) and various local bar associations.

At Holstrom, Block & Parke, APLC, Kristen is both Partner and Assistant Managing Partner. Additionally, Kristen manages her own caseload, leads the new client intake department, and is heavily involved in community outreach projects for the firm. Her innovative marketing techniques have been hugely successful, such that other firms attempt to duplicate them. Her clients deeply value her aggressive nature, unwavering loyalty, and compassionate approach. Kristen is the type of attorney that tells her clients 'what they need to hear, rather than what they want to hear'. She is also very approachable, thinks "outside the box," and truly listens to her clients. Kristen takes this journey with her clients.

Kristen is heavily involved in the local communities and has held board positions with the Corona Regional Medical Center, Big Brothers Big Sisters, Riverside County Bar Association, Orange County Bar Association, and other local non-profits. She has received numerous awards and recognitions, including the Super Lawyers Rising Star award for four consecutive years, from 2017 to 2021. This recognition is reserved for the top 2.5 percent of lawyers in the state and is based on peer reviews, statewide surveys, and independent research. Kristen has also received the Top 50 Women Rising Star award and the Top 100 Up-and-Coming Southern California Rising Star list, which are reserved for the top one percent of attorneys in practice under ten years.

In her free time, Kristen enjoys spending time with her family and friends, traveling, reading, and watching football. As a dedicated Green Bay Packers fan, Kristen and her husband make it a priority to catch every game, no matter where they are in the world. You can almost always find Kristen on the soccer field with her children. She has made it her professional mission to normalize the dissolution process and help educate her clients on how to make this process "easier," on all fronts. You can catch her every Saturday at 8:30 AM on Go Country as well as AM Talk Radio.

*Certified Family Law Specialist by the State Bar of California Board of Legal Specialization.


Family Law

Divorce

Child Custody

Child Support

Alimony / Spousal Support

Postnuptial Agreements

Domestic Partnership Dissolution

Domestic Violence

Wills & Trusts
Conservatorship

Guardianship

Post Decree Modifications

Post Decree Enforcement

Defending Rights of Unmarried Parents

Visitation Rights

Grandparent Rights

Legal Separation

Annulment
Kristen
Holstrom
Partner, Assistant Managing Partner
Certified Family Law Specialist
Juris Doctorate, Trinity Law School

Bachelors of Science, Marketing and Economics, Jacksonville University
2021 Super Lawyers Rising Star

2020 Super Lawyers Rising Star

2019 Super Lawyers Rising Star

Top 100 Up-and-Coming Southern California Rising Star (top 1% of attorneys)

2019 Super Lawyers Top 50 Women Rising Star

2019 Super Lawyers Top Women Attorneys in Southern California

2019 Avvo Client's Choice Award

2018 Super Lawyers Rising Star

2017 Super Lawyers Rising Star

2017 Avvo Client's Choice Award

2013 Avvo Client's Choice Award

2012 Avvo Client's Choice Award

10/10 Superb Rating on Avvo
Professional Positions, Associations, and Memberships
State Bar of California, Member

Riverside County Bar Association, Member

Los Angeles Bar Association, Member

Orange County Bar Association, Member

Riverside County Bar Barristers (Young Lawyers)

Trinity Law Review, Member (2005-2007)