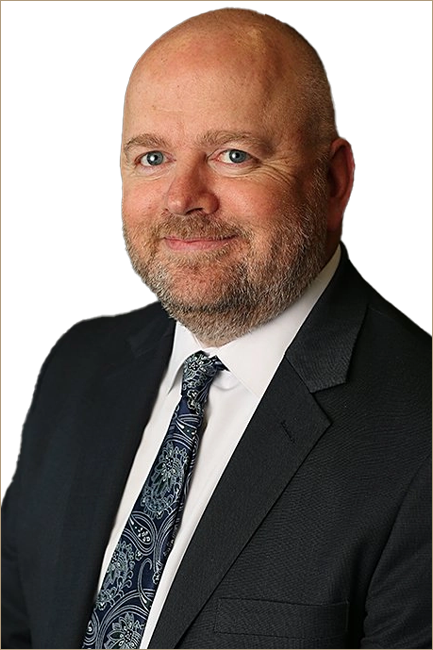 Ron
Funk
Appellate & Family Law
CFLS*, CALS**
Ron Funk has been an attorney for more than twenty-five years, after graduating from Brigham Young University's J. Reuben Clark Law School in 1996. He also earned an undergraduate degree in English, with a minor in family science, from Brigham Young University, not realizing at the time how much his undergraduate education would later influence his path in law school and in his career.

His English degree paid dividends almost immediately, as the writing skills he developed in obtaining his degree helped him earn the award for the Best Brief in the first year class moot court competition. This continued as he won best brief awards in each year he was in law school, including the Jack Welch award his third year for Best Brief by a third-year law school student at Brigham Young University.

Ron started out writing appellate briefs as a law clerk with his first employer, a plaintiff's personal injury firm. He continued handling appeals after moving on to family law in 2002, to reach the point where he has been a handling attorney on a number of published family law cases which have served to help shape the implementation and interpretation of several areas of family law.

Ron is one of only eight attorneys in California with both CFLS (Certified Family Law Specialist) and CALS (Certified Appellate Law Specialist) designations. This is rarified air in the legal profession, and Ron brings to the table tremendous value for the firm and its clients. He works closely with a small committee for the Association of Certified Family Law Specialists (ACFLS), which includes well-known and highly accomplished attorneys and former judges from all over California, who are charged with reviewing published and unpublished family law appellate opinions and recommending whether to seek publication, depublication, or California Supreme Court review of those cases on behalf of California's Certified Family Law Specialists.

Ron and his wife, Tara (Schelin), have six children and live in Murrieta. Ron enjoys NFL and college football, reading, music, and travel, and he also breeds ball pythons and volunteers for the United States Association of Reptile Keepers.

*Certified Family Law Specialist by the State Bar of California Board of Legal Specialization.
**Certified Appellate Law Specialist by the State Bar of California Board of Legal Specialization.

B.A., English, Brigham Young University – 1993

J.D., J. Reuben Clark Law School (Brigham Young University) – 1996

Order of the Barristers
All California Trial Courts

U.S. Court of Appeals, Sixth Circuit

U.S. Court of Appeals, Ninth Circuit

U.S. District Court, Central District of California
Andrew V. v. Superior Court (2015) 234 Cal. App. 4th 103

Colarossi v. Coty U.S. Inc. (2002) 97 Cal.App.4th 1142

In re Marriage of Deffner (2006) 143 Cal.App.4th 662 (subsequently ordered depublished by the California Supreme Court)

R.B. v. D.R. (2018) 28 Cal.App.5th 108

In re Marriage of Martin (2019) 32 Cal.App.5th 1195

Aviles v. Vulovic (2022) 79 Cal.App.5th 694
State Bar of California

Riverside County Bar Association

Association of California Family Law Specialists (ACFLS)
Contributing Author, California Causes of Action, James Publishing, 2000, 2009

Idiosyncrasies of Family Law, Riverside County Bar Association, Family Law & Appellate Sections, 2019

Appealable Family Law Orders and Judgments, California Lawyers Association (CLE to Go & On Demand) (available online through the California State Bar Association