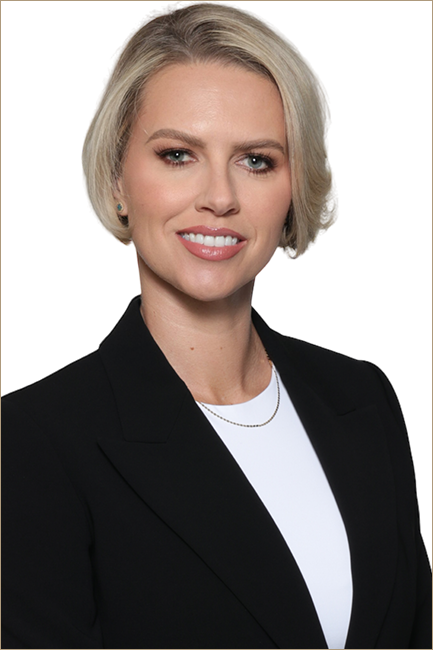 Melissa
Wheeler Hoff
Family Law
Melissa Wheeler Hoff, a distinguished divorce attorney based in Newport Beach, was captivated by family law due to the intricate psychological, emotional, and financial dynamics it encompasses. Her decision to specialize in this field was driven by a profound understanding of the complexities involved and a deep-seated desire to provide support to individuals navigating these challenging circumstances. Her dedication to her clients is evident in her unwavering commitment to their cases, particularly those involving high-asset divorce and high-conflict custody disputes.

Throughout her legal career, Ms. Wheeler Hoff has demonstrated an exceptional ability to guide clients through every phase of the marital dissolution process. This includes mediation, pre-trial litigation, settlement discussions, evidentiary hearings, and long-cause trials. Additionally, she extends her expertise to post-judgment matters, such as enforcement and modifications, ensuring her clients receive comprehensive legal support.

Possessing an innate ability to connect with people, Ms. Wheeler Hoff is adept at making her clients feel at ease during what can often be an uncomfortable process. She approaches family law cases with mindfulness, recognizing that empathy and strength can coexist. She is acutely aware of the stress that divorce litigation can impose on families and is committed to minimizing the emotional toll on her clients and their children. Her philosophy is encapsulated in her own words: "You can dissolve your marriage without destroying your family if you are willing to take the high road."

Ms. Wheeler Hoff's approach to family law is characterized by a balance between zealous advocacy and straightforward representation. She is not afraid to tell her clients what they need to hear, rather than what they want to hear. She believes it is possible to dissolve a marriage without destroying the family unit, and is committed to helping her clients achieve healthier, more amicable settlements. Nevertheless, Ms. Wheeler Hoff is not afraid to tenaciously litigate an issue when the circumstances call for it.

Ms. Wheeler Hoff's practice is limited to family law. She was named a Super Lawyers Rising Star in 2019, 2020, 2021, 2022, and 2023, an award conferred upon the top 2.5% of up-and-coming attorneys in California following nominations, independent research, and peer evaluation. Ms. Wheeler Hoff is a member of the Orange County Bar Association, Los Angeles County Bar Association, and Beverly Hills Bar Association. She is also a Founding Member of the American Academy for Certified Financial Litigators (AACFL), an organization dedicated to divorce financial education. A Founding Member is an individual who has been recognized by the AACFL as a leader in AACFL's mission of enhancing the family law community through advanced financial education. These individuals have been carefully selected by local Advisory Board members due to their exemplary reputation, integrity, and dedication to being leaders in the education of the financial aspects of divorce.

Ms. Wheeler Hoff grew up in Newport Beach, playing water polo for Newport Harbor High School, and later at UC Berkeley as a scholarship athlete for the women's NCAA Division I water polo program. Ms. Wheeler Hoff also enjoyed several years representing Team USA at the Youth, Junior, and Senior National levels. Today, Ms. Wheeler Hoff enjoys spending free time in or near the ocean, reading psychological thrillers, practicing yoga, or hanging with her two cats, Pumpkin and Pirate.
Juris Doctorate – Santa Clara Univ SOL

Bachelor's Degree – University of California Berkeley
2022 Rising Star - Super Lawyers

2021 Rising Star - Super Lawyers

2020 Rising Star - Super Lawyers

2020 Top Contributor - Avvo

2020 Recognition for Professional Involvement - Lawyer Legion

2019 Rising Star - Super Lawyers
State Bar of California, 2014
Professional Positions, Associations, and Memberships
California State Bar

Beverly Hills Bar Association, Family Law Section

American Academy of Certified Financial Litigators (AACFL)

California Lawyers Association, Family Law Section

American Bar Association, Dispute Resolution Section

California Lawyers Association - Racial Justice Working Group

Orange County Women Lawyers Association

American Bar Association, Family Law Section

American Bar Association

California Lawyers Association

Orange County Bar Association, Family Law Section

Orange County Bar Association

State Bar of California, Family Law Section

Southern California Mediation Association

San Francisco County Bar Association

San Mateo County Bar Association

Santa Clara County Bar Association

SCU Family Law Society